Stocked with cliff bars, chocolates, cookies, hand sanitizers, beers and lots of other goodies, 450 packages were prepared by residents of Blueridge and Seymour Heights neighbourhoods and delivered to Lions Gate Hospital and Berkeley Care Centre.
As many as 150 bags were delivered to the Lions Gate Hospital ER department and 300 went to the Berkley Care Centre.
The project was spearheaded by the Blueridge Community Association, which raised $6,000 in eight days to buy the goodies that made up the care packages.
Many local companies also pitched in with in-kind donations, said Eric Andersen, the president of the Blueridge Community Association.
"I am so humbled and feel so privileged to be living in this wonderful, generous and caring community," Andersen said.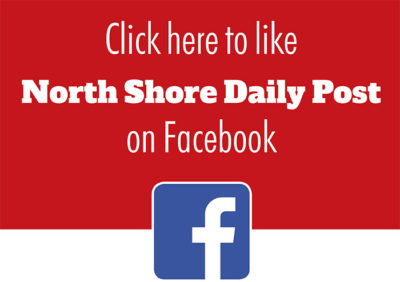 Andersen says the project started with an email from one of the residents of Blueridge. The resident had reached out to the association after reading about the need for masks at the Lions Gate Hospital.
When Andersen spoke to a doctor at the hospital, he quickly realised what was needed more than a mask was a gesture of support, something that could boost the staff's morale.
The Blueridge Community Association quickly got to work, using the bank of emails and social media to reach out to residents asking them for their support.
Initially, it seemed difficult to collect $4,000, but slowly the word spread and the community rallied to the cause. First residents and then local businesses contacted the association with offers of help.
First, a bakery joined as a sponsor, and then local breweries, and then some talented women volunteered to prepare cards that could be signed and used for each bag.
The local print-shop gave a large discount and so did a chocolate company, a farm market and a pharmacy for hand sanitizer, and the local supermarket. Meanwhile, the donations started flowing in.
"We reached the magic $4,500 mark and eventually collected $6,060 which allowed us to pay for some of the goodies," Andersen says.
The bags were initially meant to be delivered at a doctor's house, but it was quickly realized they wouldn't fit in the garage—a priceless moment, says Andersen.
The team then drove to the Lions Gate Hospital and unloaded the bags, and has since received several messages of thanks from the health care workers.
"We know that we have made a lot of people happy, hopefully providing a little morale-booster for them all," Andersen says.
Andersen says he would like to thank the community members and businesses who made this project possible.
Stong's Market for donations of bags, Cliff bars, La Croix drinks and chocolates
Howe Sound Brewing beer
Red Racer beer
Bad Dog Bread cookies
Savories from Parkgate Farm Market plus chocolates donated from Rene Rey Swiss Chocolate (1 bar and 2 hedgehog chocolates)
M1 Sports Management's water bottles
Mary Kay mini hand creams
Mira's Happy House which printed and donated 200 thank-you cards
Hand sanitizers by Pure Integrative Pharmacy
Gift certificates for Wild Trails Coffee
Judy Killeen's light pens
Recipe cards and Thank You cards, signed by volunteers and printed by Infinity Printing
The local families who made up cards, painted rocks, and gave other various donations, such as soaps, candles, chocolates, lotions, teabags, and wine bottles.