The driver of the white Tesla Mode-X that left the scene of an accident involving a pedestrian on January 18, has been identified.
The driver has been identified as a 91-year-old resident of West Vancouver.
The driver contacted police after seeing media coverage of the incident and is cooperating with investigator, said Constable Kevin Goodmurphy.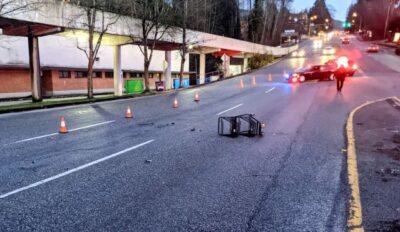 The driver was not arrested and the investigation is ongoing.
Yesterday, at approximately 7 am , police were called to a pedestrian-involved hit and run in the 400 block of Taylor Way, near Clyde Ave.
When officers arrived they located a 58-year-old man who had been struck by a vehicle while he was crossing Taylor Way.
According to witnesses, the driver did not stop and the vehicle immediately left the area.
The pedestrian was taken to hospital with non-life-threatening injuries.