Looking for an interesting book to read on your summer vacation ? Head over to Helicon Books, a new independent bookstore located in Lower Lonsdale at 125 West 1st Street in North Vancouver.
Operating out of a freshly redesigned 1400 square foot space, Helicon Books offers thousands of stringently curated new titles – fiction, non-fiction, a range of children's works, and lavishly produced cookery and art tomes – to avid and accomplished readers looking for something not readily found at the big-box chains.
The shop is the start-up enterprise of Matt Sturrock, a long-time bookseller and an alumnus of Nicholas Hoare in Toronto and Daunt Books in London, England. He is joined in this enterprise by Lizzie Lee, also of Daunt Books, and a former manager and buyer for Waterstones UK.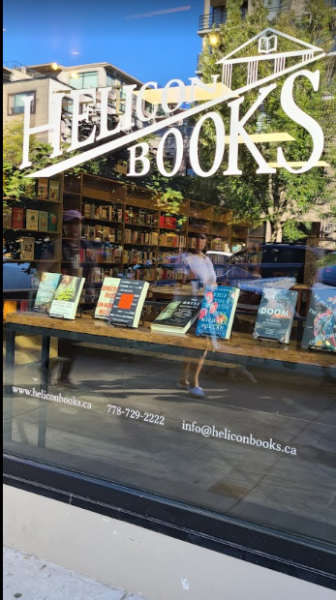 Both are happy to apply the expertise and discernment they acquired from their former employers in creating a space that provides edification, amusement, consolation, and a refuge where serendipity supplants the hectoring algorithms of the technocratic world outside.
Situated just north of the markets and restaurants of Lonsdale Quay and the Shipyard District, and right next to Earnest ice cream parlour and three coffee shops, Helicon Books has been aiming to complement their neighbours' delicious offerings with nourishment of a more intellectual kind.
Open six days a week, Tuesday through Sunday, Helicon Books is also happy to place special orders, issue gift certificates, host book clubs, organize wedding registries, and carry out library-building consultations.