By Jackson Weaver
April 1, 2018
Jordan Reichert, an animal right's advocate who will run for the Victoria city council, says City of Victoria should ban horse-drawn carriages due to what he alleges as animal exploitation and lack of regulation. "There's no regulation of this industry, and for me, there's no lesser-way to do something that is inhumane to the animals, and essentially amounts to animal exploitation," says Reichert.
Reichert and his group, Victoria Horse Alliance or VHA, believe that the practice of sharing road space between horses and cars is dangerous, the animals don't get appropriate care, and using animals for entertainment in any way is exploitative. Reichert also claims there is a history of accidents in the city involving the carriages. Above all, he says, using animals to promote the tourism industry is unethical. "It's just making an animal perform for the public's amusement," Reichert says. "As a society, I believe, we've moved beyond this evaluation of animals as commodities and as objects of entertainment."
The VHA has gained support among some members of the public but has met strong resistance as well. The majority of the city council members have expressed support for the industry, quite possibly chief among them Councillor Charlayne Thornton-Joe. Though Councillor Thornton-Joe did not respond to requests for comment, she has been on the record previously in support of the industry. When the VHA asked the city council to phase out horse-drawn carriages in 2016, Thornton-Joe responded that she would not support a ban because the pattern of accidents activists reported was overemphasized.
In a report by The Canadian Press, Councillor Thornton-Joe was quoted as saying that the accidents VHA described, 20 in the past 20 years, were nowhere near as high as accidents with cyclists, skateboarders, or pedestrians. As well, the two horse-drawn carriage companies in Victoria, Tally-Ho Tours and Victoria Carriage Tours, argue any claims that the industry is dangerous to citizens or horses are misinformed.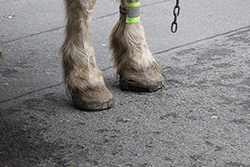 "There is the odd little accident, like point zero zero zero one per cent over the last 20 years of the million of hours of horses on the streets of Victoria," says Katarina Gallagher, owner and operator of Victoria Carriage Tours. "There's been no major accidents. There's been nothing serious."
Both Gallagher and Donna Friedlander, owner and operator with Tally-Ho Tours, emphasize to The Global Canadian that they entered the industry due to a love of horses, and wish to see them treated well. They say that their main goal is always the animals' comfort and safety, and that the current laws dictate that as well. Victoria's bylaws require sightseeing companies using horses to undergo once-yearly examination by veterinarians, and prove to the city that the living conditions of horses "are not likely to cause the horse to be in distress".
Over the past year, Friedlander says, relations between Reichter and the horse-drawn carriage companies have gotten increasingly "ridiculous", until they came to a head on January 1 of this year. Reichert posted "Closed" signs over the Victoria Carriage Tours business, after claiming that their business licences had expired and they were operating illegally. Reichert says that the stunt was intended to make a statement, as the businesses should have been closed.
Friedlander says that these sort of incidents were where the ongoing fight had led to, as tensions only continued to rise. "He goes so far. I think he crosses some lines sometimes," Kate Clark, a manager with Victoria Carriage Tours says. "We're just out there trying to do our job."
Reichert says that there was nothing illegal about what he did, and that it was merely to showcase improper business practices by the carriage industry. He says that the practice is outdated, and holds little significance in such a modern area. "I plan on making it part of my platform to bring compassionate politics to Victoria, where the expectations of animals for profit is not something that will openly take place on city streets," he says. "I think that people will vote their conscience."
The VHA continues to campaign the city to look at its bylaws, and to eventually outlaw horse-drawn carriages in the city. In the meantime, both sides only expect to see the debate continue.