​First health care workers, then the local RCMP, and now firefighters.
Blueridge Community Association members have once again rallied to say a heart-felt thank you to those who keep the community safe.
On July 14, a small delegation from the Blueridge Community Association brought 140 Blueridge Community Care Packages to the fire hall in Lynn Valley.
The gifts were for the firefighters across the District of North Vancouver to thank them for the great job they have done to keep the community safe, despite the COVID-19 threat.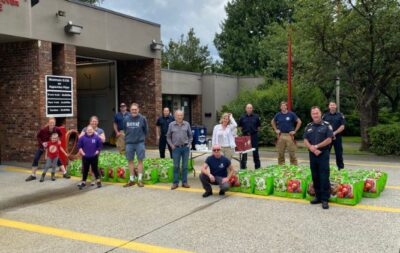 The bags had been assembled from many items received from local sponsors as well as items purchased thanks to many generous donors, including a very large donation from Dick's Lumber, said Eric Andersen, the president of the association.
The items included:
50 bagel gift cards for Rosemary Rocksalt
30 coffee gift cards for Wild Trails Coffee
15 coffee gift cards for Waves Coffee House
1 coffee gift card per bag for Seymour's Bean Around The World
85 United Strangers Coffee vouchers
Tea and 10 $5 vouchers for Delany's Coffee House
49 rock figurines by local artist Tazim Rajan
Scones and croissants for all bags from Cobs Bread
2 cans of Kombucha tea per bag
1 drink card per bag for Colony Northwoods
2 Deep Cove Brewery beer per bag
$5 cards from Bridge Brewing
Water, bags, granola bars, peaches from Stongs
Bags, water and peaches from Save-On-Foods
20 bucket of balls coupon for the Takaya Driving Range
10 pizzas from Larry's Market
Cookies from Bad Dog and Heather Gall and her daughter
Granola bars, 12 jars spaghetti sauce, hand sanitizer, bagged treats and 24 cans pineapple from Thrifty's
Chocolate from Superstore
2 thermoses and 2 lbs coffee beans from Starbucks
Thank-you cards prepared and signed by local families
Back in April, the association gave 450 packages to health-care workers at the Lions Gate Hospital and Berkeley Care Centre.​​
Later, the community association also distributed 200 gift bags to officers and staff at the North Vancouver RCMP detachment.