The City of North Vancouver has added another fast charging station to its EV charging network.
The newest station is located in the parking lot at City hall.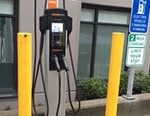 The high-powered 50KW unit provides quick charging of electric vehicles with an 80% charge in less than 30 minutes.
The City's goal to maximize access to EV charging stations across the City is a key objective of its Electric Vehicle Strategy.
There are five EV charging stations throughout the City, located at City Hall, North Vancouver City Library Parkade, and Centennial Theatre. An online map of the City's electric vehicle network and more information are available on the City's website.
The City of North Vancouver is also changing how it manages its charging network. Effective today, user-fees apply to all City-owned and operated EV Charging Stations.
Revenue collected will help fund future expansion of the network. Learn more at cnv.org/ElectricVehicles.
"We're making it easier than ever for our residents to choose sustainable transportation in the City," says Mayor Linda Buchanan.
"This kind of initiative contributes to our goal of creating a vibrant, healthy community for future generations."
Partial funding was provided by Natural Resources Canada and the Province of BC.