Yes, you heard it right. Dogs can not only detect cancer they can even beat screening technology to it. A recently published study aimed to determine the accuracy of trained beagles' ability to use their olfactory system to differentiate the odour of the blood serum of patients with lung cancer from the blood serum of healthy controls.
Three beagles who worked with the team of researchers passed the test with flying colours. According to researchers, dogs could be a better way to detect lung cancer as previous studies have indicated that 90 per cent of missed lung cancers occur when using chest radiographs, and it is difficult to identify small, central, juxtavascular lung cancers on CT images.
The study could provide evidence to support the use of canine scent detection as a tool for biomedical researchers to identify biomarkers associated with various types of cancer.
The team of researchers, led by Prof. Thomas Quinn of Lake Erie College of Osteopathic Medicine, Pennsylvania, in the US, said the findings of this study provided a starting point for a larger-scale research project designed to explore the use of canine scent detection as a tool for cancer biomarkers.
According to the American Cancer Society, lung cancer is the leading cause of cancer death worldwide for both women and men. "Currently, early detection provides the best opportunity for survival; however, symptoms do not often appear until later stages, which makes early detection difficult. Available screening technology, such as chest x-ray or computed tomographic (CT) imaging, can introduce additional health risks and be costly and potentially inaccessible, especially for people who are underprivileged or who live in rural communities.
"These barriers may deter some patients from seeking screening. Additionally, chest x-ray imaging has a high false-negative rate, whereas CT with computer-aided diagnosis has a high false-positive rate," says the study.
"The olfactory acuity of a dog is at least 10,000 times more sensitive than that of a human, which is likely due to their more expansive olfactory epithelium and olfactory receptors and their ability to retain air in their nasopharynx during exhalation. Scent hounds are a set of working dogs bred for their scent detection capabilities and have a polymorphism in their olfactory receptor genes that may account for their superior olfactory capabilities, even among the Canis familiaris species. Beagles are a medium-sized member of the scent hound family and have 225 million olfactory receptors. In comparison, humans have 5 million olfactory receptors," the study says.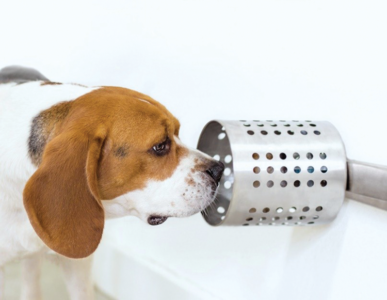 The study had various phases of testing and training. This is how the dogs were trained and tested initially: "The dogs were followed by a handler as they evaluated 5 evenly spaced canisters. Four canisters contained a control sample and 1 canister contained a positive lung cancer serum sample. Dogs were permitted to take as much time as they needed to evaluate each sample. The dog indicated a correct response by sitting in front of the canister.
"A correct response to a control sample was given by ignoring the sample and continuing on to the next canister. If the dogs sat in front of a control sample, they were told "no" and encouraged to move on to the next sample. If the dogs correctly indicated a positive serum sample, they were rewarded with the sound of a clicker and a training treat."
The three beagles made a surprisingly good job of it. Here's their score card: "Canine No. 1 indicated a positive sample on 10 of the 10 cancer samples and 1 of the 40 control samples during his test runs. Canine No. 2 indicated a positive sample on 10 of the 10 cancer samples and 0 of the 40 control samples during her test runs. Canine No. 3 indicated a positive sample on 9 of the 10 cancer samples and 2 of the 40 control samples during her test runs."