Be prepared for some delays, detours and lane closures as construction for the B-Line starts in North Vancouver.
The express bus service, between West Vancouver and Phibbs Exchange, will run every eight minutes during peak times and every 10 to 15 minutes during non-peak times.
There will be six stops in the City of North Vancouver: Hamilton, Bewicke, Lonsdale Quay, Lonsdale at 3rd, Ridgeway and Brooksbank.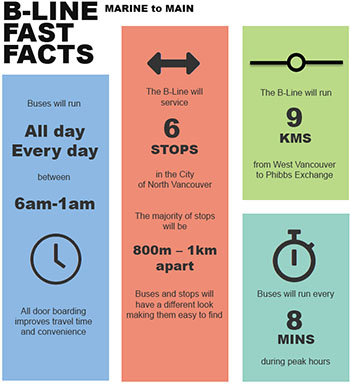 Construction starts on the south side of Cotton Road between Gladstone and Brooksbank, and will take approximately three months to complete.
Besides adjusting the curb, an off-street bike path will be created along with bus stop improvements at Brooksbank Avenue.
To make way for the bike path and bus lane, limited tree trimming and the removal of approximately six trees is required in order to widen the road, according to the city.
CNV plans to retain existing travel lanes, but to create space for a transit priority lane, it plans to narrow existing travel lanes and medians, and restrict parking in certain areas at peak times.
Seven parking spaces in Lower Lonsdale will be removed.
The B-Line bus service will have dedicated travel lanes and a special signal for buses only, allowing them to jump the traffic queue in areas without transit priority lane.
Meanwhile, overnight construction along Marine Drive, from Capilano Road to Pemberton Avenue will begin on June 13.
In DNV, there will be new bus shelters, changes to the curb, including the removal and pouring of new concrete, line painting, and removal of existing road material and pouring of concrete at new B-line bus stops.