"The difference between failure and success is one more try."
A high-ranking RCMP officer, who at one time had every reason to give up, recently delivered a confidence boost directly to high school students.
North Vancouver RCMP Supt. Ghalib Bhayani spoke via live video stream to students, who tuned in from classrooms across the school district on December 8.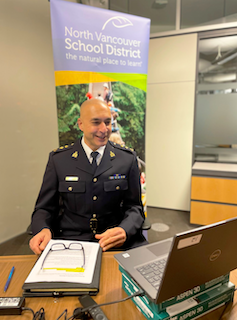 A candid Bhayani revealed he was far from a model student growing up, while kicking off a new NVSD speaker series, From Adversity to Diversity.
"I was a pretty angry kid – and my marks reflected that," said Bhayani.
It was easier for Bhayani to lament the bad cards he was dealt early on in life.
As a child, Bhayani fled Uganda in the 1970s with his family, along with other Ismaili Muslims.
Shortly after immigrating to Canada, the family's apartment caught fire and all their possessions burned.
Then three weeks later, Bhayani's mother died at the age of 28.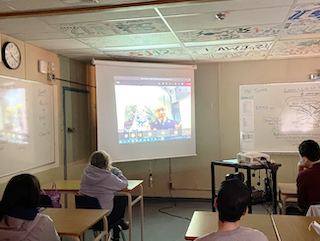 While navigating a lonely new world, Bhayani became the target of racist taunts and bullying in the community.
"I can't look at a blue Slurpee to this day," he told the students following an incident when the frozen drink was thrown at him.
Bhayani felt ashamed back then.
"I looked different. I was hearing words like 'lazy' and 'loser,' " Bhayani painfully remembered out loud.
Just as a teenaged Bhayani was losing hope, two teachers changed his thinking.
"And they actually pulled me up," said Bhayani.
Today, Bhayani holds a criminology degree, a master's in international diplomacy – and a doctorate degree.
"The message in this is: You have teachers who will pick you up," Bhayani said to his student audience.
Physical, mental, and emotional health pieces are important to help you on your journey, added Bhayani.
"It's about succeeding at your own pace."
Students had the opportunity to ask Supt. Bhayani questions after his talk.
"From your experience, what is the best way to address a stereotype?" one student asked.
"Challenge those assumptions. Have those discussions with your peers," urged Bhayani. "Be courageous to have some of those difficult conversations."
"I made it – and I know that you can too," said Bhayani.
About the Adversity to Diversity speaker series
North Vancouver RCMP, local fire and rescue services, and TD have collaborated with our school district on the development of a speaker series for Grade 8 to 12 students with industry leaders.
The next session, January 26, will feature Assistant Fire Chief Haida Fortier from District of North Vancouver Fire & Rescue Services and Captain Sam van Born from North Vancouver City Fire Department.
Assistant Chief Fortier will speak about her chosen path, challenges she has faced as a female firefighter, and being a leader who strives to inspire diversity and inclusion in the Fire Service.
Captain van Born will be speaking about the challenges she has faced in her personal life, and how her career has helped her lead her best life.