Experience the Ultimate Summer Adventure at Sea to Sky Gondola: Live Music, Hiking, and a New Taco Bar Await!
Mountain top yoga and fitness classes, live music, hiking, summer food favourites: There is a lot to enjoy at the Sea to Sky Gondola this summer.
Offering non-stop views, a thrilling gondola ride to and from the summit, fun summertime activities, a variety of hiking and walking trails suitable for all fitness levels, along with tasty new food options, live music, and more is on offer this summer at the Sea to Sky Gondola. Throughout the summer, visitors can enjoy the ultimate outdoor playground with an array of activities including:
Mountain top yoga and fitness (Monday to Friday) 
Fitness/wellness enthusiasts can now take their workout to new heights with Sea to Sky Gondola's summer yoga/fitness series, starting June 19 and offered throughout the summer. With an assortment of classes (including Mindful Yoga, Yoga Flow, Mountain Camp, and more) available every morning from Monday – Friday, this wellness experience provides a unique opportunity to take in the sights, sounds, and smells of the summer, and connect with nature on a whole other level. All classes take place on the Summit Lodge deck, overlooking the awe-inspiring Sea to Sky Corridor.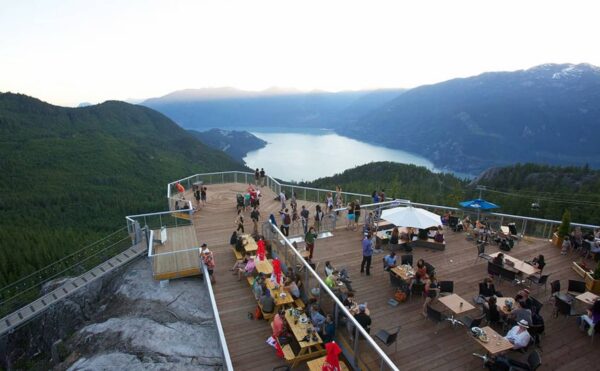 Hiking and walking on trails
For new, intermediate, or advanced hikers, Sea to Sky Gondola and its surrounding trails offer some of the most stunning views in the world, making it a must-see, must-do experience this summer. From short walks in the Alpine Forest to full day backcountry experiences, there's something for every age and fitness level. One of the most popular hikes is Sea to Sky Gondola's signature Sea to Summit Trail. Starting at the base of the gondola and ending at the Summit Lodge, this 6.5-kilometre ascend trail provides diverse and meandering terrain along with the breathtaking Sea to Sky Corridor scenery. Offering intermediate and advanced hikers all the elements of a challenging and exciting climb, this hike will soon become a regular "go-to" for locals and visitors alike.
Every Saturday morning starting June 24, hikers can crush their fitness goals, get social, and enjoy nature while climbing Sea to Sky Gondola's Sea to Summit Trail. Once at the top, participants can take a much-needed break by enjoying the stunning morning views while drinking a complimentary cup of coffee. Everyone who arrives before noon will be entered into a draw to win some amazing prizes.
A Rockin' Good Time on Friday nights 
Kick off summer weekends every Friday with Mountain Music at Sea to Sky Gondola. From June 9 to September 8, an impressive line-up of bands will hit the outdoor stage and include popular local favourites such as, The Hairfarmers, The Whiskeydicks, Ruckus Deluxe, and more. Set amongst a backdrop like no other with endless views of the stunning west coast scenery, this is a rockin' weekly event that visitors won't want to miss.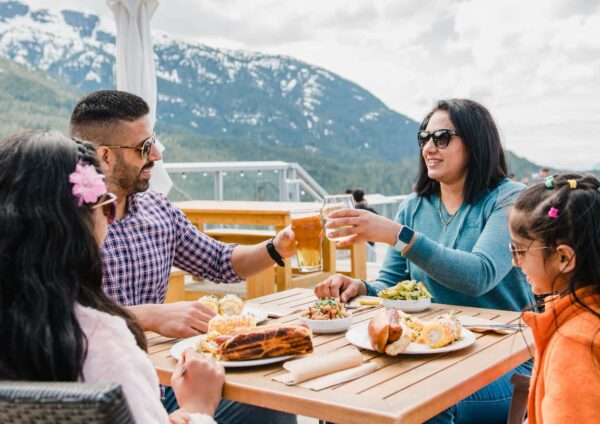 Caping off the summer is all the amazing food options offered throughout the summit. From the Backyard Plaza to the spectacular front deck and the Co-Pilot Cafe, Sea to Sky Gondola has cooked up a whole new menu of delicious good eats and sweet treats for everyone to enjoy.
Olé! New Taco Bar at the Co-Pilot Cafe
Fan favourites include pulled beef/chicken/pork, battered cod, and a plant-based vegan option. Created with fresh ingredients and served with a margarita (traditional, pineapple or spicy) or two, this is one taco bar visitors will want to come back to again and again.
Firing Up the Grills – It's BBQ Season
There is nothing like a summer BBQ and instead of just one, Sea to Sky Gondola is firing up two grills! New this season are artisan created pizzas with fresh local ingredients, smokies, corn on the cob, and more at the Backyard BBQ. Take in views like no other at the Oceanview BBQ on the summit patio while enjoying all the classics including, mouth-watering brisket and pulled pork with all the fixings.
The Sweetest Spot on the Summit 
Satisfy your sweet tooth with a visit to Summit Sweets. This new addition at Sea to Sky Gondola will literally make you feel like a kid in a candy shop. With ice cream, cotton candy, popcorn, slushies, and of course, candy galore, it offers the ultimate treat for all visitors this summer.
To take advantage of all that Sea to Sky Gondola has to offer during the summer with its longer days and stunning sunsets, the attraction is extending its hours from 9 am to 8 pm (last ride down at 9 pm) every Friday, Saturday, and Sunday until Labour Day. As a further incentive, Sea to Sky Gondola is also launching its new Sunset Savings program. Every Saturday and Sunday, visitors can save 40% off day tickets after 4pm. Tickets are limited and must be purchased online.
For more information on Sea to Sky Gondola, its summer events, Sunset Savings, Sea to Summit Trail, and more, please visit seatoskygondola.com or contact them directly at 1.855.732.8675 or locally at 604.892.2550. For the latest news and updates, follow Sea to Sky Gondola on Instagram, Vimeo,  and connect on Facebook.