Farewell to a Local Landmark: Lynn Valley's Beloved Black Bear Pub Bids Goodbye in November
Lynn Valley's iconic Black Bear Pub will be closing down this year. In a social media post, the black bear pub announced it's closing down on November 23.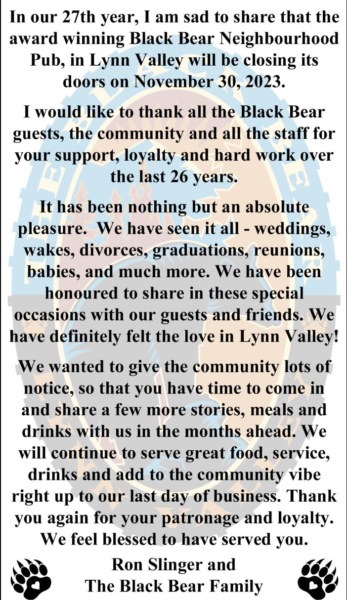 "I would like to thank all the Black Bear guests, community, and the staff for your support, loyalty and hard work over the last 26 years," said Ron Slinger, the pub's owner.
District of North Vancouver has received an application to redevelop the pub's site for a multi-unit development that includes 98 rental apartments and approximately 12,000 square feet of commercial space in a six-storey building with parking for 108 vehicles in an underground parkade.
Bosa, which has applied to redevelop the site, told the North Shore Daily Post they are exploring the possibilty of keeping the pub in the new development.