Photos by NASA Earth Observatory show how an ongoing drought is shrinking Lake Mead in Nevada, the biggest reservoir in the United States. The photos were taken two decades apart — on July 6, 2000 and July 3, 2022.
Continuing a 22-year downward trend, water levels in Lake Mead stand at their lowest since April 1937, when the reservoir was still being filled for the first time, says a statement by NASA. As of July 18, 2022, Lake Mead was filled to just 27 per cent of capacity.
Lake Mead was formed in 1936 by Hoover dam which was built on the Colorado River.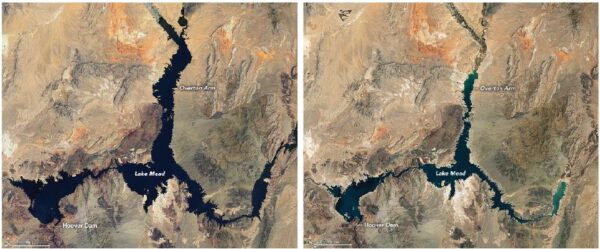 The water levels of Lake Mead have gone so low that bodies of murder victims thrown in the lake decades back are surfacing now. In May this year, a body stuffed in a barrel came up along the receding shoreline. Based on the clothes and shoes found on the body, police believed that the victim was killed in the 1970s or the 1980s.
The largest reservoir in the US supplies water to millions of people across seven states, tribal lands, and northern Mexico. It now also provides a stark illustration of climate change and a long-term drought that may be the worst in the U.S. West in 12 centuries.
In addition to serving as a major drinking and irrigation source for the Southwest, Lake Mead is a national recreation area that is particularly popular with boaters. According to the National Park Service, five of six boating ramps/launches are now closed. "Declining water levels due to climate change and 20 years of ongoing drought have reshaped the park's shorelines," the Park Service said on its website. "As Lake Mead continues to recede, extending launch ramps becomes more difficult and more expensive due to the topography and projected decline in water levels."
An ongoing drought is drying out lakes in western United States, and it has worsened due to climate change. A few weeks ago, the US Geological Survey said water in Utah's Great Salt Lake has fallen to its lowest level ever recorded. The waters have never been this low since records began in 1847, when Mormons first arrived to establish Salt Lake City.
Last year, as water levels declined in Folsom Lake near Sacramento in California, a decades-old mystery was solved. Officials discovered a fully intact plane at the bottom of the lake which is believed to be the one that crashed in 1965.
According to NASA Earth Observatory, 74 percent of nine Western states face some level of drought and 35 percent of the area is in extreme or exceptional drought. In Colorado, location of the headwaters of the Colorado River, 83 percent of the state is now in drought, and the snowpack from last winter was below average in many places.