North Vancouver local Brad Gilbert has been participating in Tour de Cure since 2017. But this year, he's riding with new purpose — he's riding for his 29-year-old niece, Chelsea, who is currently battling bone cancer at the BC Cancer Centre in Kelowna, according to a press release.
Earlier this year, just months before her wedding day, Chelsea was diagnosed with bone cancer, forcing her to put her life on hold to begin treatments and surgery, says the release. For Chelsea, though, this didn't mean missing out on everything. In May, she got a 6-hour pass from the hospital so that she could marry her partner Jordan, returning to her decorated hospital room after the service to spend her wedding night with her new husband.
Brad says in the press release that he cannot help but be strengthened by Chelsea's positive attitude and her resolve to beat cancer. He and Chelsea's friends and family have formed TEAM CURE CHELSEA to ride in this year's Tour de Cure and raise funds to support BC Cancer's team of leading clinicians, scientists, and researchers and to give hope to those fighting cancer like Chelsea.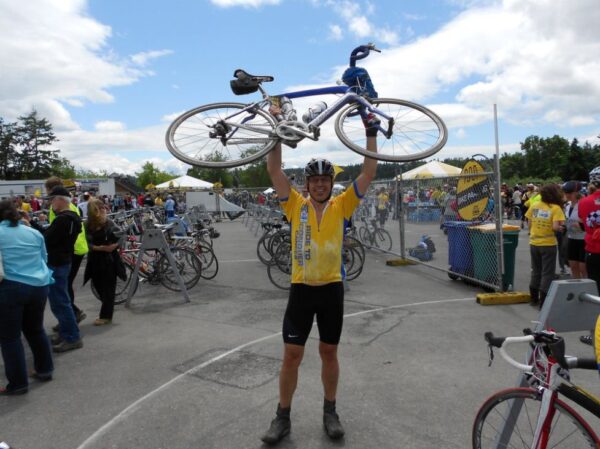 "It means the world to me to have Brad/Team Chelsea riding for the cure. It means awareness, it means more donations for the cause, it means support for those who need it. My experience with BC Cancer and my team of doctors has been nothing short of amazing and I am so happy to be a part of a fundraiser that will help with research and advancements in their field to better treat patients," says Chelsea in her statement on Brad's venture.
"Events like Tour de Cure raise spirits and hope for people currently going through cancer treatment by raising public awareness and getting the community involved. These types of events show immense support for those going through treatment and makes us (well at least me!) feel like they do matter and people are working hard to try to help in anyway they can." Chelsea says.
The Tour de Cure presented by Wheaton Precious Metals is B.C.'s biggest cycling fundraiser, helping the BC Cancer Foundation power vital research and transformations in care. This year's one-day, multi-distance event takes place in the Fraser Valley on August 27.