North Vancouver RCMP are capping off their first week of back to school traffic safety operations, and so far, so good.
This week saw traffic officers running numerous operations in school zones throughout North Vancouver, making sure kids returning to school were safe, and drivers dropping them off were obeying speed limits, and leaving their phones alone.
North Vancouver RCMP's new Chief, Supt. Ghalib Bhayani, came out to support front-line members this week, and picked up the laser himself.
"Our commitment is to have members out on the streets of North Vancouver every day, working hard to keep our streets safe," said Supt. Bhayani. "We want to remind people that traffic safety is one of our top priorities, and enforcing speed limits and distracted driving in school zones is an effective and meaningful strategy to reduce harm on our streets."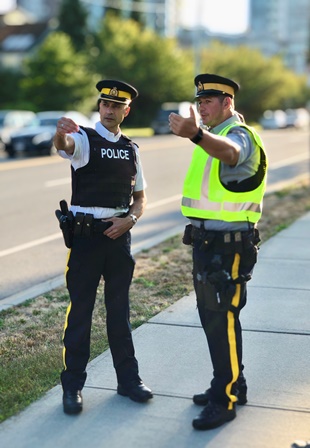 The Detachment's Youth Intervention and Traffic Units also work to raise public awareness, remind drivers of the need for vigilance, and help schools educate children on how to stay safe when traveling to and from school. The Detachment's Community Policing unit, along with community partners such as ICBC, conduct the SpeedWatch program as a way of reinforcing the messaging about staying within the posted speed limits.
"Our hope is that the attention drivers give to following the rules during this week won't fade as the school year progresses," said Supt. Bhayani. "We need to keep our kids safe every day of the year."