This Remembrance Day, please join members of Council and your community as we honour the veterans who gave their lives to serve our country. It is their sacrifices of the past that let us enjoy the lives we now have in the present. They protected our freedom, "lest we forget".
We also honour our veterans and those currently serving in the Canadian Armed Forces who continue to ensure our freedom and safety. Everyone who has served is part of the fabric of this country, woven together through times of hardship, memories and loss, but also through valour and victory.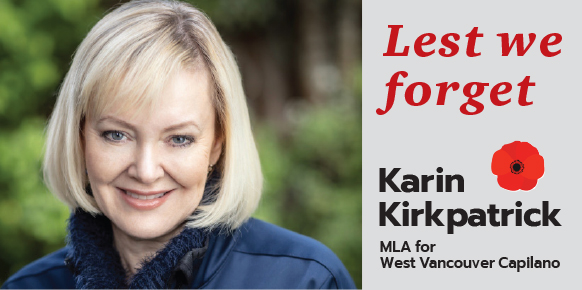 Together with Council, I would like to encourage you to engage and take part in this day of remembrance in a way that is meaningful to you. On Remembrance Day, a parade from 18th Street and Marine Drive beginning at 10:45 a.m., will lead us all to Memorial Park where a ceremony will be held at the cenotaph.
The Friends of the Library will then be hosting their Remembrance Day Reception at the West Vancouver Memorial Library, with warm drinks and music performed by the Lions Gate Brass quintet. The library will also be open, featuring displays, screenings of the Research to Remember veteran interviews, as well as other things to explore.
The West Vancouver Memorial Library, as its name suggests, is in itself a living monument to those who made the ultimate sacrifice. This includes the many Indigenous veterans in Canada who fought bravely for our collective freedom and a better life.
We hope to see you on November 11, as we gather together to remember with respect and honour, those who have helped shape our country and this wonderful community we get to call home.
Sincerely,
Mayor Mark Sager