This year marks the 20th anniversary of the opening of the Stittgen Fine Jewelry store on Bellevue Avenue in West Vancouver.
In 2003, industry veteran Selina Ladak opened her high-end boutique offering a level of service and quality that was unmatched on the North Shore.  Since then, the store, business and staff have won numerous awards recognizing the commitment to excellence that's become synonymous with the Stittgen brand.
In 2015, Stittgen opened a second location in the Four Seasons Hotel, adding a valuable presence in downtown core until the hotel closed prior to the pandemic.  In 2016, the West Vancouver location underwent a complete renovation.  The modern look and feel uses a minimalist architectural vocabulary to make the jewelry stand out as the art pieces they truly are.  As before, there are no salespeople behind counters here; instead, the knowledgeable commission-free staff explore the pieces with you as you walk through the gallery.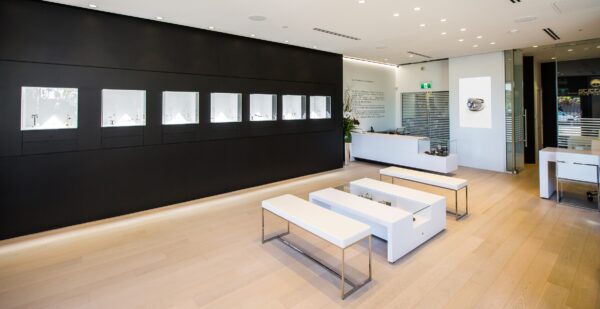 What truly sets Stittgen Fine Jewelry apart is that it is one of the few retailers where a Master Goldsmith is on the premises and even available to join the discussion when a custom design is being contemplated.
In today's world of mass-produced jewelry, even at the high end of the market, this type of accessibility to the craftspeople who will create your unique piece is a valuable luxury.  "Our clients truly appreciate our process of creating a bespoke piece, and when the finished piece is seen for the first time, the way their faces light up is truly precious to us", says Selina Ladak, Stittgen's President.
When asked about the appeal of custom-made jewelry, even when so many ready-to-wear pieces are available at Stittgen, Ladak says "Jewelry is very personal and reflects who you are.  Many of our clients want us to design and craft pieces that have deep meaning for them.  An example that comes to mind is a multi-stone pendant, where each stone represents a family member."
Having lived on the North Shore since a very young age, Selina Ladak is highly involved in the community.  Selina is chair of the North Shore Hospice & Palliative Project, and an active board member of the Lions Gate Hospital Foundation.  Likewise, her company endeavors to be a good corporate citizen and give back to the community by donating to a variety of charities.
Whether you have a custom piece made or opt for one of the many inventory pieces, the handcrafted quality that Stittgen is known for, will shine through long into the future.  A bonus feature of many Stittgen pieces is that they can be worn in different ways in different combinations, such as a pair of studs that can be worn with or without drops for a completely different look.  This ensures that not only will the piece last for generations, but it will be worn on many, many occasions.  Learn more about timeless design and quality craftsmanship at stittgen.com.
This is a sponsored feature