Kevin and Ronnaug Evans have been part of the Terry Fox Run for eight years as members of the North Vancouver Rotary Club. This Sunday, however, their ties to the run will be deeply personal.
Their grandson, five-year-old Theo, will be donning a red shirt as a mark of a cancer survivor and the entire family — Kevin and Ronnuagh Evans and his son Erik and his wife Amanda Evans — will be running to support him and to honour the memory of Terry Fox, a name synonymous across the country with resilience and courage.
The Evans family will be among the hundreds of people who will take part in the Terry Fox Run, where everyone is welcome to run or walk either a 2K or a 5K course. The event is managed by the Rotary Club of North Vancouver on behalf of the Terry Fox Foundation. The registrations opens on September 15 at 9 am at the Inter River Park. The run starts at 10 am and will end at 12 pm.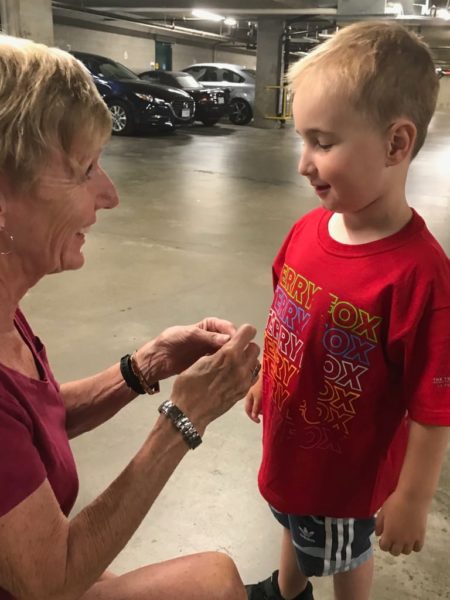 The Terry Fox Run in North Vancouver will be one of the thousands of community runs that will take place across Canada, and families like the Evans will be running their own versions of the Marathon of Hope, their personal stories intertwining with the inspiring, indomitable spirit of Terry Fox that started this tradition.
The story is by now deeply embedded in the Canadian psyche: In 1980, with one leg having been amputated due to cancer, Terry Fox embarked on a coast-to-coast run to raise money and awareness for cancer research. His legacy continues. So far, over $750 million have been raised worldwide for cancer research in his name through the Terry Fox Runs.
The money helps fund cancer research, which helps kids like Theo Evans, who was diagnosed with cancer when he was two-and-a-half-years old. The Evans believe that better cancer research has helped their child become cancer-free, and the research funded by Terry Fox Foundation has had a role to play in this.
"The kind of chemo he received has become more sophisticated. He has received a special kind of radiation, and cancer research funded by the run has a role to play into this, directly and indirectly," says Kevin.
He is urging North Vancouver residents to be part of the run but, more importantly, consider donating. There will be a big board where those who take part can write the names of their loved ones who are either dealing with cancer or who didn't survive it. Mayor Mike Little will open the ceremony. Evans hope a lot of citizens would turn up even if the forecast calls for rain.
You can also register on-site or on-line at: www.terryfox.ca/terryfoxrun/vancouver-north.