Last year, Ian Rose-Innes, a retired North Vancouver engineer, went from one bike shop to another in Vancouver with a simple ask: A bike that would enable him to take his friend on a ride.
Mike, a friend of Rose-Innes, had been diagnosed with brain tumour. Surgery, radiation and chemotherapy had severely diminished his ability to bike on his own. Rose-Innes wanted to refresh him by taking him along a ride on the False Creek Seawall followed by a coffee in the Olympic Village.
But that never happened.
"I went to bike rental shops in Vancouver and just couldn't find any piece of equipment that would allow me to take Mike with me. That was really disappointing," he said.
So, when Rose-Innes found out about Cycling Without Age, he latched on to the idea. Started in 2012 by Ole Kassow in Copenhagen, Cycling without Age offers the elderly and the enfeebled to experience a cycling experience with a trishaw.
Its motto, "The Right To Wind In Your Hair", really struck a chord with Rose-Innes. That is what he had in mind for his friend Mike.
After a year of effort, Ian Rose-Innes was successful in creating a North Shore chapter of Cycling Without Age. The society is now fundraising to get two trishaws from Denmark,  costing $40,000. With support from the community, the team has already raised $18,000 and is hoping to raise the rest so the trishaws can be in North Shore by the spring of 2020.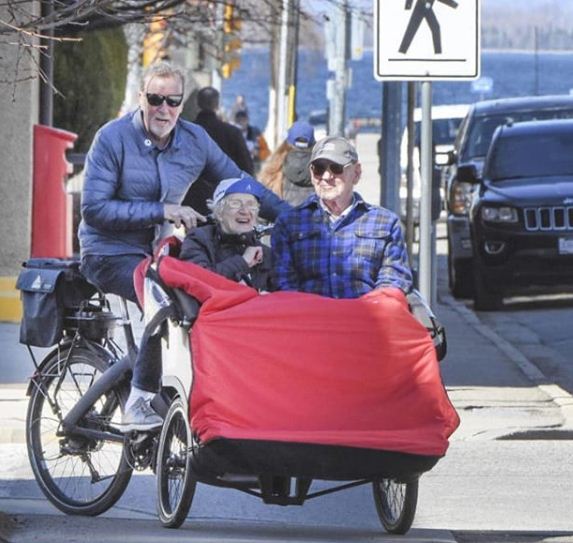 Cycling Without Age is now available in 38 countries. "We aim to take infirm seniors and disabled people out for a cycle ride — through the city, to the water and the countryside along dedicated bicycle paths or multi-use trails. To break them free from social isolation. Make them smile. Bring back their memories. We give them the right to wind in their hair," it says.
Once the trishaws are here, the team envisions two routes where they could take people on a free ride. In West Vancouver, volunteer pilots will take seniors on the Spirit Trail and the trails along Capilano River, with the trip starting from Park Royal. In North Vancouver, they will take people on the Green Necklace, a 10-kilometre trip, to get out and explore the city.
"The slow ride will allow them to smile at the kids playing in the area and talk to the guy walking his dog. It gives them a chance to talk to their younger pilot, and just enjoy being out of the home. It gives them a chance to feel that wind in the hair," says Rose-Innes.
Although Rose-Innes started the North Chapter of Cycling Without Age, the trishaw program will be run officially by the Silver Harbour Seniors' Activity Centre.
Rose-Innes hopes the community will support the fundraising initiative on their crowd funding page so those who are confined in their homes can come out and enjoy what was once normal for them and what everyone of us takes for granted.
Here's an interesting video from Cycling Without Age: