Realtors abound when market goes up. They pack up and leave when it goes down. That's true for the Greater Vancouver Area (GVA) too.
In 2000, there were nearly 7,000 realtors in the Greater Vancouver Area, and just under 2,000,000 people living there. But 17 years later, the number of realtors in the GVA nearly doubled to about 14,000 while the overall population increased as well, but by only 30%, says a press release issued by Roomvu, a Vancouver-based a real-estate data and analytics company.
However, now that the real estate is cooling down, realtors are deserting the market. In 2018,The number of active realtors has gone down in GVA first time since 2008 when financial crisis hit the world, says Roomvu.
The graph below shows how the number of realtors quickly picked up after a decline in 2008 but the 2018 dip is projected to persist in 2019.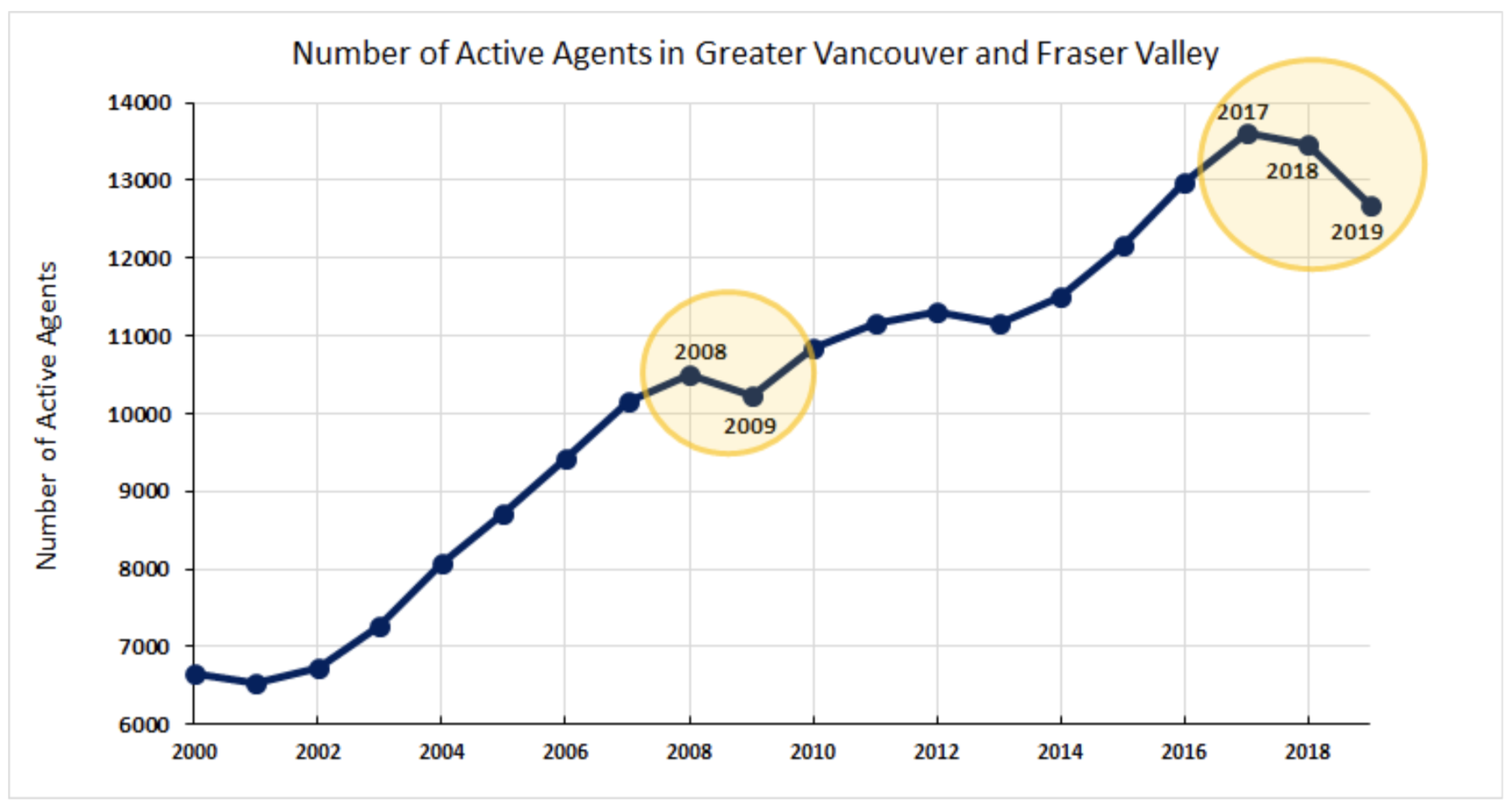 The Roomvu research does not include all "registered" realtors in Greater Vancouver or Fraser Valley but only those having at least one listing or one sale in that year in either of these regions.
"As the number of transactions fall, many realtors start to give up their licences, since the fees associated with keeping the licence start to outweigh the revenue generated by being a realtor," says Sam Merhrbod, CEO of Roomvu, and a realtor in GVA. "This was evident in 2018, and our data predict that this trend will continue into 2019 and beyond."
The year 2018 saw the introduction of several federal, provincial and municipal measures to curb housing prices. The B20 stress test, empty homes tax, foreign buyers tax, speculation tax, provincial school tax, limits to, and taxes on, short-term rentals, have all had a decided impact on the housing market in 2018, 2019.
Roomvu says the data doesn't necessarily suggest a mass exodus from the realtor market, or at least, not yet. Perhaps the decline in the number of realtors is simply a market correction, much like the correction in home prices.