Gagandeep Ghuman
Claire Watts is 16 years old, and there is a certain place in West Vancouver where she feels happy and most at home. It's not the shopping mall or a friend's house or a club downtown, but it's the West Vancouver United Church on Esquimalt Ave. Watts is a part of a growing cohort of young people who are making their way to the church to know more about God, the stories of the Bible, the life and message of Jesus and how to incorporate his message of selfless love and compassion into their daily lives. Watts says she feels a unique sense of freedom as she learns about what the church stands for and what she can do to emulate the life and teachings of Jesus in her life.
Rev. LeSieur helps them connect, makes religion fun and links it to their everyday lives
"We have some amazing youth leaders who work so hard to teach us not only about Jesus, the Bible, God, and everything else, but also how to live the way Jesus taught. They really put a lot of stress on bringing his goodness into the world, which I think is just as, if not more, important as anything else," she says.
Watts first came to the church when she was 12 years old when a friend of hers convinced her to tag along. She has since gone to church at every chance she gets. She says being there has made her more aware of world issues and how she could apply her Christian faith to smaller events in her everyday life.
"One of the simplest and most effective ways I've found to live the way Jesus taught is to accept and spend time on those who need it the most. And it can be simple! Just striking up a conversation and asking someone how their day has been can have a larger impact on someone than you might expect. And this doesn't just apply for high school. All around the world there are people who just want to talk. Have their voice heard
by someone. Give them the opportunity," she says.
The youth group at West Vancouver United Church has seen a revival recently. While earlier no more than two or three teens came, the number has now swelled to 50. Even more come on special occasions such as Christmas.
The number may be modest, but why are West Vancouver teens flocking to the church now? The answer comes in the form of Rev. Simon LeSieur, a warm, soft-spoken man who exudes charm and seems to have successfully interpreted profound Biblical messages in an idiom and lingo that teenage can relate to. A friend, confidante, older brother and teacher all rolled into one, LeSieur has managed to make the life of Jesus and stories of Bible fun and relevant for teens when a glut of social media distractions are just a swipe away.
Lori Zondag's son, Tristan, attended youth groups for a few years. As some with moderate mental disabilities, Tristan is high-functioning but doesn't feel comfortable around other peers with disabilities or at school. But the church group was his absolute favourite place to go to every week, says his mother. "It was because Simon always made him feel so welcomed and comfortable. The other teens saw this, and they are also very welcoming to him. Thursday nights were where Tristan could go and feel like he belonged. Simon has an amazing way of communicating with the kids. They absolutely love him. He makes the evening fun with introducing concepts like Love Bombs, playing games and making being a Christian look pretty cool," she says. Originally from Montreal, LeSieur says he lacked direction in his teenage years and was headed down a dark path of anger and rebellion until his aunt, Peggy, convinced him to attend a Christian camp in Kincardine, Ontario. It was here, he says, that he first realised what a profound difference a belief in God and Christ could make.
"They had a sense of community and relationship in which forgiveness was a big part, where drama was forgiven and people loved each other rather than competing with each other. In the end, I said I would do anything in your shoes to have God in my life. God grabbed me by my collar and said, 'you are so done running away from me'. It felt like something was planted in me and I knew that the rest of my life, I will be following Jesus's way," he said.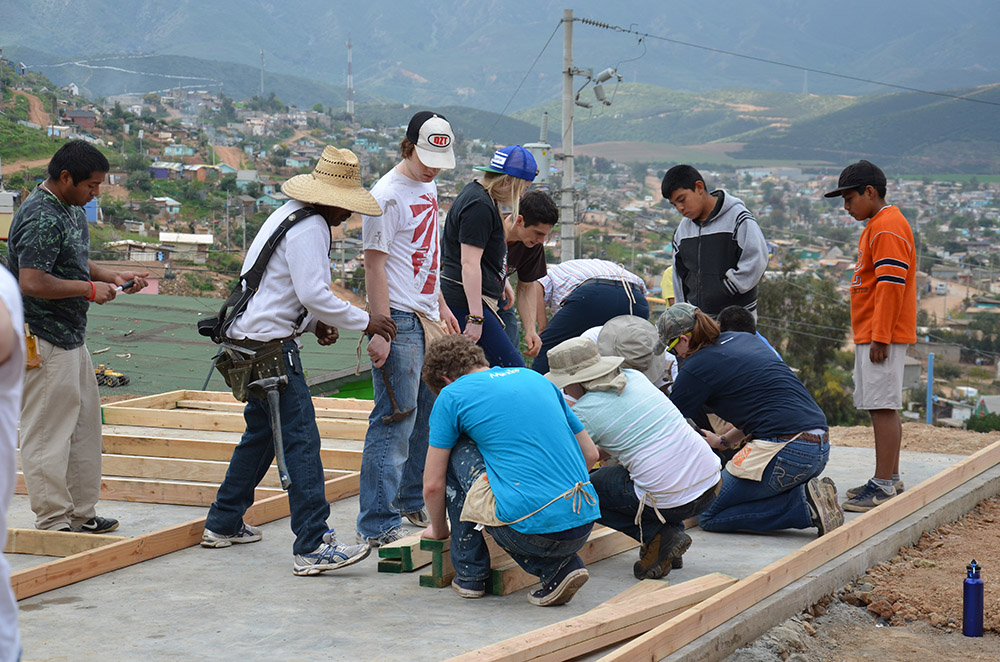 It was Jesus who brought him to West Vancouver a decade ago when he was hired by the church as a youth minister at the United Church. Initially, there were only one or two kids that showed up, but guided by faith, Simon didn't waver. He says there were five things that helped him grow his youth group. The first was to gather around food. The youth group introduced a dinner element to its gathering. Food, he says, was a big part of Jesus's ministry and meeting around a shared meal allowed the group to deepen the relationship with one another. Simon says he also made a point to craft unique programs and not hide behind entertainment.
"The community centre next door has a water slide! If we're trying to entertain or amuse the teens, there's nothing we could ever do that could beat a water slide. So our attention and energy was poured into what the church can do best, which is discipleship—making Jesus' teachings relevant to 21st century teens living on the North Shore," he says.
LeSieur says while it was tempting to resort to Google searches for pre-packaged programs, the United Church group crafted programs rooted in the struggles and joys of teenage life. "What the kids encountered in our programs from day one was a 'curriculum' that we put together every week that we felt answered or attempted to answer the questions we could hear them asking with their lives," he says.
LeSieur also invited kids to a meaningful conversation about their life. The idea was to create a sense of community while learning about Jesus and how to best live a Christian life. When he asked one teenager why she came to the group, the response was that she felt really connected. Most importantly, the group grew because, he says, he and his three youth leaders persevered and prayed. He recalls there were times when he would come to the church to see that no one had come.
"Youth ministry is hard on the ego. For the first two or three years, we rarely had more than five teens gathering on Thursday nights. Often, one teen would show up and we would abandon everything we had planned and walk down to the local coffee shop just to chat and hear what was going on in their life. But we never cancelled because there was just one or two kids," he says. Those prayers have certainly been answered now as the group slowly grows in size. Mariam Toma is a high school student who attends the youth group regularly. She feels being part of the group gives her something to believe in. "I like coming here because not only we learn about Jesus and stories from the Bible, we also learn what we can do to make the world a better place. I think I have become a better person by just coming here," she says.
Recently, LeSieur was at the community centre when someone walked up to him and asked him for help. Their son had been asking about God but the parents had ditched the church long time ago, part of a generation that had walked away from the church. But thanks to youth pastors like LeSieur, their children have a chance to know more about Jesus and God. And, in doing so, learn to have faith.