On Sunday, August 18, you can join memorial service for Okjökull glacier, also known as Ok. Iceland's first glacier lost to climate change will be remembered with a plaque to be installed at the site of the former glacier.
Researchers from Rice University in Houston, U.S., author Andri Snær Magnason and geologist Oddur Sigurðsson (the glaciologist who first declared Okjökull a glacier-no-more) will join members of the Icelandic Hiking Society and the general public on August 18 to install a monument recognising the site of the former Okjökull glacier in Borgarfjörður, Iceland, according to a press release issued by the university.
The Un-Glacier Tour II 2019 is free of charge and will depart Reykjavík at 9 am on Sunday, August 18, returning in the evening. Those interested in joining the tour may RSVP online at www.notokmovie.com
The memorial plaque to be installed atop Ok mountain has words written by one of Iceland's most prominent writers, Andri Snaer Magnason:
"Ok is the first glacier to lose its status as a glacier. In the next 200 years, all our glaciers are expected to follow the same path. This monument is to acknowledge that we know what is happening and what needs to be done. Only you know if we did it.
Ágúst 2019, 415ppm CO2"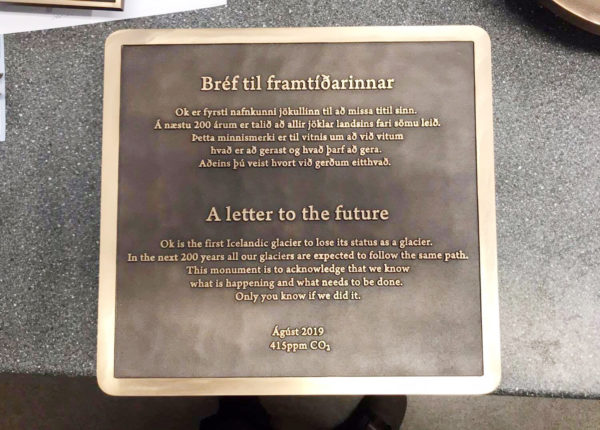 The number at the end is of carbon dioxide per million atmospheric particles. Carbon dioxide exceeded 415 ppm on earth in May this year for the first time in millions of years.
The melted glacier was the subject of a 2018 documentary, 'Not Ok,' produced by Rice University anthropologists Cymene Howe and Dominic Boyer. The film, narrated by former Reykjavík Mayor Jón Gnarr, tells the story of Ok's death.
Ok, which covered 15 sq km of mountainside and measured 50 metres thick, has now shrunk to barely 1 sq km of ice less than 15 metres deep, according to a report in The Guardian.
"This will be the first monument to a glacier lost to climate change anywhere in the world," Howe said. "By marking Ok's passing, we hope to draw attention to what is being lost as Earth's glaciers expire. These bodies of ice are the largest freshwater reserves on the planet and frozen within them are histories of the atmosphere. They are also often important cultural forms that are full of significance."
"In the same spirit as the film, we wanted to create a lasting memorial to Ok, a small glacier that has a big story to tell," Boyer said. "Ok was the first named Icelandic glacier to melt because of how humans have transformed the planet's atmosphere. Its fate will be shared by all of Iceland's glaciers unless we act now to radically curtail greenhouse gas emissions."